Get your Tournament Ranked
How to
List Your Future Tournaments
To get your tournaments listed on the GJGR site, you must download and submit the Future Tournaments Excel file. If you do not have tournament courses information, you can use this template to submit only tournament info. Replace sample data with your information and email the completed sheet to: admin@juniorgolfranking.com.
Managers, how to
Upload Your Tournaments Results
The Global Junior Golf Rankings™ web site gives, Tournament Managers, the ability to easily upload their Tournament Results.
Enjoy the One-Click solution for posting tournament schedules and results.
the Preferred Management Platform.
To get started: Contact the GJGR team to start today.

Get Your Tournament Results Posted
Please submit the complete results (including any cuts) for your event(s) as soon as your event(s) conclude using the attached Excel template. (See sample shown below.) You can also download the results example file and use it as a reference for the data layout.
All the information must be filled in completely. All fields are required, including grad year, and we can not accept any incomplete spreadsheet(s).
Make sure to include the tournament name, date and course name/location where the tournament was played at the top of each spreadsheet.
You have one week following the event to email the tournament results to us in order to be ranked. Email the completed document at: admin@juniorgolfranking.com.
If you have a playoff for the first-place finisher, please indicate which player wins the playoff by Placing a "1" in the "PlayOff" column.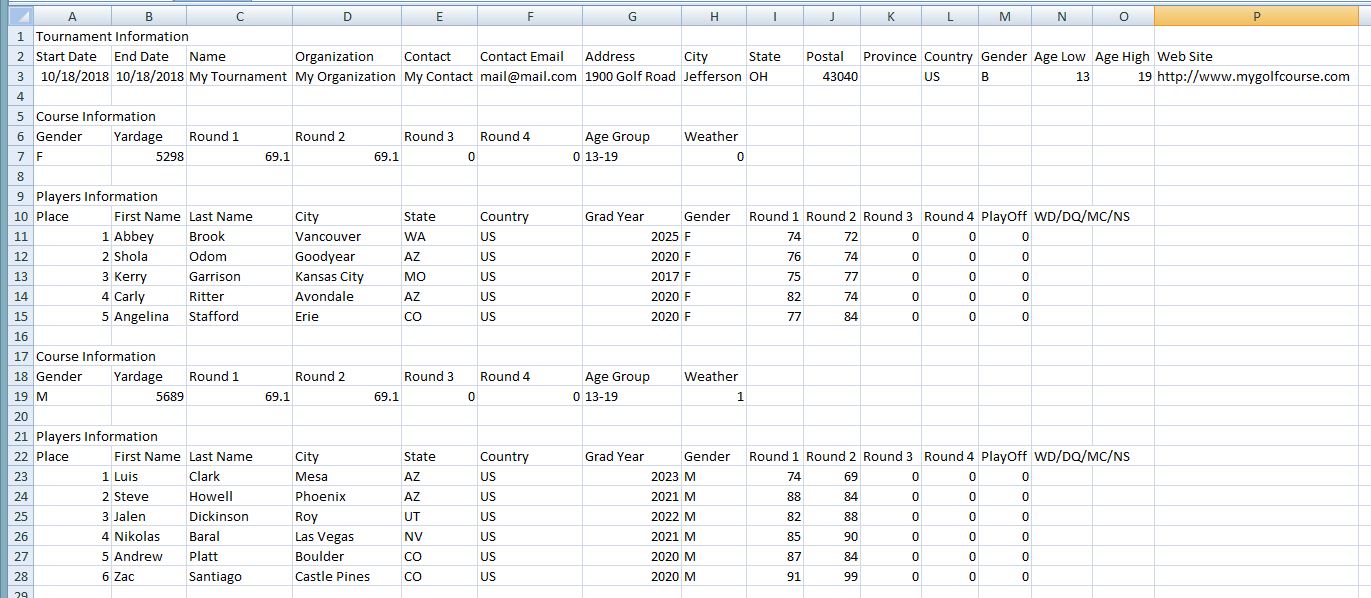 NOTE: A tournament must have a minimum of five players that have completed 18 holes. Please include all players who started the event when you fill out the spreadsheet. This is needed to determine the total field size. For any players who start the event but do not finish, please select
WD, DQ, MC or NS
in the appropriate round. For more information on how scores are Computered
click here
.
Weather should be determined as follows:

This should be based on the average weather during the full tournament. All weather will be verified by a GJGR staff member.